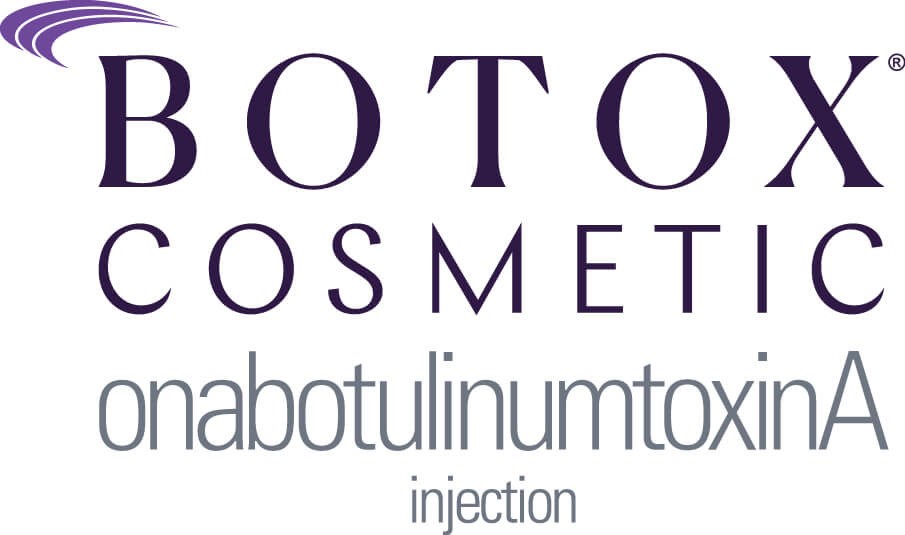 To help turn back the hands of time and to prevent lines and wrinkles from forming on the upper section of the face, Plastic Surgery Vegas in Las Vegas, NV is pleased to offer BOTOX to local patients. This nonsurgical procedure provides outstanding results and is very common among both women and men.
This wrinkle relaxer injectable can make a dramatic improvement to facial wrinkles, which are the result of expressive movement with the contracting muscles on the forehead and around the eyes. These facial lines may or may not disappear when the face is relaxed, but when injected into the face, BOTOX temporarily blocks the movements of these muscles to soften the appearance of dynamic wrinkles. BOTOX cosmetic injections are most commonly placed between the eyebrows, on the Crow's feet, and throughout the forehead. In addition, we offer Dysport, which is another excellent option that works similarly to BOTOX.
What Are The Benefits Of BOTOX?
A custom-tailored BOTOX treatment plan at Plastic Surgery Vegas can help you reverse or even slow the hands of time with a number of great benefits, including:
Smoothing wrinkles and lines
Preventing the formation of new creases and wrinkles
Creating a rested, more youthful appearance
Achieving results without surgery or scarring
Treatments are quick
Effective for men and women
Reliable, tested results
The masseter is a muscle that is located on the side of your face along your cheekbone which connects to your jawbone. The main job of the masseter muscle is to help you chew your food. This specific Botox treatment uses botulinum toxin to temporarily block nerve signals in the massater muscle.
What can Masseter Botox be used for?
Teeth grinding issues
Create a symmetrical face shape
Relieve tension headaches
Reduce jaw tension and habitual clenching
Contouring a square shaped jaw
BOTOX® Reviews
"Love the team! Dr. Silver is super nice and great caring. Love my results. He knows what he's doing 👌"
- V.N. /
Google /
Feb 05, 2020
"I have been going to Plastic Surgery Vegas for over 8 years. The front desk employees are very professional. Seonaid does my Botox and Filler. She is the best! She is excellent and always is accommodating to my schedule. I would highly recommend Seonaid and this company."
- S.G. /
Google /
Apr 16, 2022
"Seonaid is just awesome!! She has been treating me for several years now and for Botox and fillers her expertise and knowledge is unbelievable. She offers the utmost in care and understanding of what you are trying to achieve together with being the consummate professional. LOVE this place!!"
- J.K. /
Google /
Jul 22, 2022
"Seonaid is absolutely AMAZING! She always makes me feel so comfortable each time I see her for Botox and Lip Filler. I wish I could give her more than 5 stars! Highly recommend Seonaid and Plastic Surgery Vegas!"
- N.T. /
Google /
Jul 22, 2022
"I have had the most amazing experience at Plastic Surgery Vegas! The front office staff are always so kind and welcoming. I also have had amazing experiences with the RN's who administer my Botox. I had the pleasure of seeing Angela this last time and I was not disappointed! I am so glad I found Plastic Surgery Vegas!"
- A.M. /
Google /
Dec 17, 2022
Previous
Next
Who is an Ideal Candidate for BOTOX?
BOTOX injections are great for individuals who want to:
Diminish and soften the appearance of lines and wrinkles on their upper face without surgery
Receive a preventive treatment, even if wrinkles have not yet formed
Undergo a nonsurgical approach if you have forehead wrinkles or frown lines between the brows
It's also a solution for lines around the eyes. If you experience deeper lines, a filler product may be a better option. Furthermore, if you are older with severe wrinkles, you may opt for a facelift. This delivers a more impactful result, and it is more long-term. Plastic Surgery Vegas offers various facelifts, blepharoplasties, and brow lifts as effective options.
BOTOX injectable treatments are performed as an outpatient procedure directly at Plastic Surgery Vegas. If it is your first time to visit us in Las Vegas, NV to get BOTOX, we typically perform the injection during the same day as your consultation. You will be asked to make various expressions using the upper face, like squinting, frowning, etc., to help us to mark where the injections should be placed. The face will be cleansed and BOTOX will be applied with a fine needle, followed by a cold compress to help decrease discomfort and bruising. You can ask for a numbing cream to help make the procedure more comfortable, but it generally is not needed. BOTOX treatments typically take around 10 – 15 minutes, and you can return to your usual activities immediately afterward.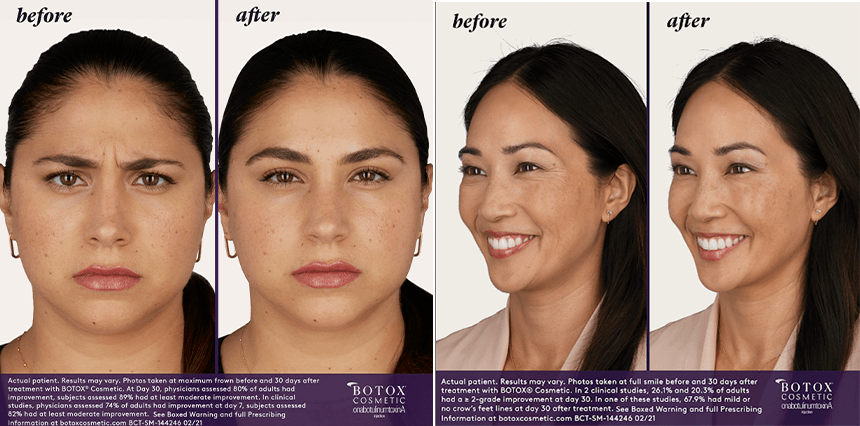 What can I Expect after BOTOX?
Although you may resume your regular schedule, strenuous activity should be postponed for a minimum of one day. You will be advised to sleep with your head elevated for at least one night and to not touch your face, which may accidentally spread the BOTOX to other areas. The injection sites can become bruised, swollen, or red for a couple of days, but you will not have any serious or long-lasting side effects. In many cases, it takes about 5 – 7 days before the full effects of BOTOX are visible. The results usually last 3 – 4 months. You should speak to your BOTOX injector about when to make touch-up appointments at Plastic Surgery Vegas to refresh your results.
What is the cost for BOTOX?
Our Plastic Surgery Vegas doctors or RN injectors are able to help with the BOTOX treatments. The cost for BOTOX administered by our RN injectors is $500 and $700 if done by one of our doctors. Depending on the treatment needed, this could vary and we request that patients contact our office in Las Vegas, NV to set up an appointment.
How long will my results last?
The results from BOTOX can last up to four months. Most patients schedule a visit every quarter to refresh their results, but you may come back earlier. If you're using BOTOX before wrinkles are visible as a preventive treatment, you can schedule appointments further apart. After hearing your concerns and creating your BOTOX plan, we will be able to estimate when you should make your next appointment.
What's the difference between wrinkle relaxers and fillers?
Wrinkle relaxers (including BOTOX) and wrinkle fillers (like Juvéderm and Restylane) are both popular cosmetic treatments that improve the appearance of wrinkles and smooth fine lines. BOTOX relaxes overused facial muscles that create wrinkles, like frown lines (which appear between your eyebrows), Crow's feet (in the outer corners of your eyes), smile lines, and forehead wrinkles. Dermal fillers add volume below the skin to correct hollow areas and decrease wrinkles. After hearing your goals, we may suggest BOTOX, fillers, or a combination of both for a "liquid facelift."
What's the difference between BOTOX and Dysport?
BOTOX and Dysport are brands of wrinkle relaxers that use botulinum toxin. They both relax the treated muscles to smooth wrinkles; however, each brand is made to treat specific needs. Some of the small differences between them include the recommended dosage, treatment spread, and how long the results last. Our cosmetic team will help you choose the best brand or brands to fit your goals.
Is BOTOX safe?
As long as it is administered properly, BOTOX should not cause any complications. However, it's important to select someone with experience and training in handling this medication, like our skilled injectors. Too much of the product may cause bad results. A skilled practitioner will apply just enough of the medication to effectively relax the facial muscles causing the unwanted wrinkles while leaving nearby muscles unaffected. Quickly becoming one of the most requested cosmetic treatments on the market today, it is safe and approved by the Food and Drug Administration (FDA).
With BOTOX, you can laugh, smile, frown, and make any other expression you want without getting fine lines and wrinkles. To smooth and prevent lines on the face, we invite you to schedule a consultation at Plastic Surgery Vegas in Las Vegas, NV to hear more about this amazing, nonsurgical treatment.
Related Procedures
Related Posts