What is Facelift Surgery?
A facelift, which is a popular surgery performed by plastic surgeons, has been in demand both in the present and in the past. The purpose of a facelift is to restore a youthful look and counteract the effects of aging, gravity, and muscle movement that have altered one's appearance over time. Plastic Surgery Vegas offers a full variety of facial cosmetic surgeries to men and women, including facelifts. This surgery focuses on precise sections of the face to tighten loose skin and wrinkles to create a more youthful appearance. Based upon your aesthetic goals, a facelift can focus on the lines and wrinkles near the eyes, the mid-face area and cheeks, the bottom portion, including the jowls, neck, and more, for an all-around younger look. The facelift technique used depends on your goals, the health and condition of your skin, the degree of skin laxity, age, lifestyle, and other influences. Some men and women want a full facelift, while others may only want a specific portion. Our surgeons are highly trained and experienced in understanding the complexity and delicate art of facelift surgery. The objective is to create a natural look that's gorgeous, subtle, and refreshed. To learn more, call our office in Las Vegas, NV, to schedule a consult.
What Are The Benefits Of A Facelift?
Results are dramatic and long-lasting
Targets multiple signs of aging simultaneously
Tightens loose, sagging skin
Addresses more severe wrinkles and lines
Recontours the neckline
Reduces saggy jowls
Provides definition to the jawline and chin
Eliminates a double chin
Scars are minimal and virtually invisible
Customizable results for both men and women
Facelift Reviews
"After being recommended to Seonaid fourteen years ago, I became an instant fan and I am now a long time patient/customer of Plastic Surgery Vegas. She has taken the time over the years to adjust my injections to get the optimal results and has even allowed me the opportunity to come back in for tweaks if I wasn't 100% happy. Seonaid gives me her honest and professional opinions on injections and fillers and was instrumental in making me feel comfortable about moving forward with my lower face surgery with Dr. Silver. Also, she is always booked solid, yet she takes the time to fit me in the nooks and crannies of her schedule when necessary. She makes me feel comfortable, eases my anxiety and I know I will leave happy. Ultimately, it was Seonaid who assured me I would be in capable hands by choosing Dr. Silver for my neck/lower face lift surgery. At my first consultation, I couldn't have felt more at ease from our initial visit. He was personable and professional as he walked me through the procedure and was up front about my expectations. I think he immediately caught on to my neurotic fears of aging, 😊 and was thoughtful and comforting to my concerns, lessening the intimidation of the surgery. His assistants Stacie and Evan have also been extremely responsive and caring- taking my calls, questions and e-mails pre and post surgery. The surgery center staff was amazing on surgery day and held my hand literally and figuratively. From the anesthesiologist to the night nurse, no box was left unchecked with my successful recovery in mind. Fast forward to approx 3 months post surgery, my perfectionist tendencies wouldn't let me see past an old thyroid removal scar that was, in my opinion, ruining the otherwise beautiful result of my neck. Dr Silver listened to me, acknowledging my issue, and told me it was a precarious scar revision (not a simple fix), but gave me a safe time frame and agreed to revise the scar. I am now about a week healed from that final step in this process and I am very happy. Six months ago I had loose skin on my neck from rapid weight loss that I felt didn't match my face or body. Today I am more confident with a tighter and smoother jawline and firmer neck. It's easy to say that outward appearances shouldn't be as important as inner beauty- until one day you look in the mirror and realize you need a little help feeling your true self. I now feel have found the perfect balance. Thank you Seonaid and Dr. Silver for making aging the new black."
- J.A. /
Google /
Feb 04, 2023
"I love Dr. Silver and he has an extremely kind staff. I had upper eye lift surgery last year but it didn't feel quite done. She recommended Dr. Silver. He's an extremely detailed doctor plus he made me feel 100% safe in his hands. I'm only one month out. I can already see so many lovely improvements and I can't wait for three months to see the "big" change. Four befores and one at two weeks. I HIGHLY recommend Dr. Silver. I got a lateral brow lift, lower face lift and a very needed neck lift. Very fairly priced and he's my guy from now on. BOOK NOW!"
- T.B. /
Google /
Mar 18, 2023
"This post is overdue! I saw Dr. Silver on 2/24 for Botox and consultation on fillers. The entire staff was the most professional and caring I have ever encountered in my medical history. And Dr. Silver was just absolutely amazing. What I appreciated the most was his gentle and honest approach about procedures and outcomes. I was willing to spend money that day for fillers, and even though it would make the most business sense to encourage the procedure, he was honest about the effects it would really have for my facial structure. His honesty was soooo appreciated and is what convinced me to do a lower face lift and chin implant with his office in the next few months. I HIGHLY recommend Dr. Silver and his office."
- J.C. /
Google /
Apr 05, 2023
"Doctor Higgins is an outstanding plastic surgeon. I got my first facelift and I feel fabulous. What I like, it looks so natural but beautiful. Everyone thinks I gained 15-20 years, (I am 63) with my awesome facelift. I highly recommend using Dr. Terrance Higgins, he takes a lot of time and does an excellent service."
- G.S. /
Google /
Apr 15, 2023
"I first went to Plastic Surgery Las Vegas nine years ago to consult with Dr. Anson about correcting droopy eyelids. I had heard she did excellent work. I had confidence in her from my consultation and scheduled surgery. I was very happy with the results. I looked like myself, but refreshed like my eyes had looked years earlier. I did not look like "I had had 'something' done." Since then, I have been going annually to Shona to have injections that keep my face looking youthful, but not artificial. At seventy years of age, I am told by people consistently that I don't look my age. That's important to me because I am in the field of public speaking. (I also watch my weight and exercise.) Last fall, just before my seventieth birthday, on the recommendation of Shona, I scheduled a consultation with Dr. Andrew Silver about a neck lift. I was getting a slight Turkey neck with sagging skin under my chin, and I wanted a more defined jaw line. From the moment he entered the exam room, I liked Dr. Silver. He was very warm and personable, explained how he would achieve the results I wanted, and made me feel relaxed, comfortable, and confident in moving forward. What I appreciated about Dr. Silver and his team was their consideration of not only guaranteeing optimum results, but making my health and safety their primary focus before my surgery. All my required pre op tests came out perfectly for my surgery to be scheduled, but Dr. Silver's assistant, Traci noticed two weeks prior to my surgery that my blood pressure was high. Thanks to Traci and Dr. Silver, I went back to my primary care physician and with medication and a postponement of the surgery a number of weeks, now have my blood pressure at healthy levels. Dr. Silver performed my neck lift, (Face lift with fat injections) April 10, two weeks ago this very day. I am ecstatic with the results! No more gobble, gobble on my neck area. I have a natural, nicely defined jaw line, and a smooth and more youthful fullness to my face that aging had depleted. These amazing results are mine only two weeks after my surgery, and when the remaining minimal bruising on my lower neck heals in another week or so, look out world! I am so very grateful to Dr Silver and his staff, not only for his artistry in making me look my very best for a man my age and achieving exactly the results I was hoping to see, but that he also impressed on me in a firm but kind and brotherly manner the importance of his post op instructions to me. Dr. Silver has been most concerned about my following to the letter what I needed to do (and not do) during my recovery time at home to insure optimum healing. I appreciate that immensely. I will be recommending Dr Silver to my family and friends. His skills are clearly visible in my refreshed, natural, and youthful appearance, and the renewed spring in my step! W. Walker"
- W.W. /
Google /
Apr 29, 2023
Previous
Next
Who is a good candidate for a facelift?
Facelift surgery is a highly personalized procedure. This is an investment into yourself and should not be done to fit the standards or ideals of someone other than you. Often, patients inquiring about a facelift wish to:
Address advanced lines and wrinkles around the mid or lower areas of the face
Address one or more sections of the face
Experience a firmer, more youthful appearance to the face
Is a facelift right for you?
Men and women who are suitable for a facelift are bothered by drooping skin, lines, and wrinkles on the face, whether it be the face as a whole or on the upper, mid, or lower face. Facelift surgery can address various sections, depending on your unique needs. It's also important to note that age doesn't always define the time in life to have cosmetic facial surgery. There are so many unique concerns and reasons, and also numerous lift methods, depending on what needs to be addressed. The facelift chosen will vary for patients who are between 30 – 40 years old versus those who are over 60. Skin elasticity is one of the most important components in the decision-making process. Patients should be in good physical health and be a nonsmoker, and also have expectations that are realistic.
Surgical Facelift Techniques
Depending on your individual needs, there are various levels of facelifts available. Some facelifts rejuvenate the upper portion of the face while others focus on the middle and lower. Furthermore, some procedures are slightly more invasive than others. It's very common for some patients to have an eyelid lift, brow lift, or wrinkle-relaxing injections and fillers to complement and enhance their outcomes. A few of the more known facelift techniques include:
Full Facelift
Common surgery for older adults, the full facelift generally incorporates an incision close to the hairline, extending down to the temples, stopping near the base of the ears. The underlying facial tissues and muscles are delicately pulled and tightened to produce a lifted look, which diminishes excessive wrinkles and sagging. The traditional facelift is used for individuals who show signs of advanced aging. During a full facelift, many techniques may be used, including upper or lower blepharoplasty to address the eyes or neck reduction for the lower region.
Mid-Facelift
Using a similar method to the mini lift, the cheek lift (known as a mid-facelift) focuses on the hollow and lax areas near the cheekbones and the upper jaw. This lift works nicely for those who desire improvement in the middle to lower region of the face, which also includes the jowls.
Lower Facelift
This particular facelift corrects the neck region and chin, and sometimes the jowls. Nonsurgical methods, such as laser skin tightening or KYBELLA®, can also be used for chin reduction to attain a softer, tighter neck.
Mini Facelift
When undergoing a mini facelift, a small incision is placed around the ears to lift the skin, which enhances the mouth, jawline, and jowls. This technique creates subtle improvements that look beautiful and natural.
What to Expect Before Your Procedure
At Plastic Surgery Vegas, you can take advantage of a complimentary consultation to learn more about a facelift and make an informed decision. Our consultations are relaxed and unhurried, and you are welcome to take as much time as you need to ask questions and discuss your concerns. On average, a consultation lasts between one to one and a half hours.

You'll be meeting with our one of our highly skilled and experienced facial surgeons, who will review your medical history, examine your facial skin, and explain the procedure, recovery process, and potential risks and benefits. After your meeting with one of our surgeons, you'll have the opportunity to meet with our Patient Care Coordinator, who will provide you with access to our extensive collection of before-and-after photos of facelift patients treated by Plastic Surgery Vegas. We'll also address any questions you may have regarding costs and financing options.
What can I expect After a facelift?
Following your procedure, you will be monitored before you are released to be taken home by a friend or family member. Prior to your procedure, our team will plan your follow-up appointments and discuss tips to help you recover faster and more comfortably. You should expect to have swelling and puffiness, slight to moderate soreness, and discomfort, which can be reduced by prescription pain medication. You should look and feel normal after about a month. You will see a more glowing look with fewer lines and sagging. Overall, your face will appear slightly lifted and rejuvenated.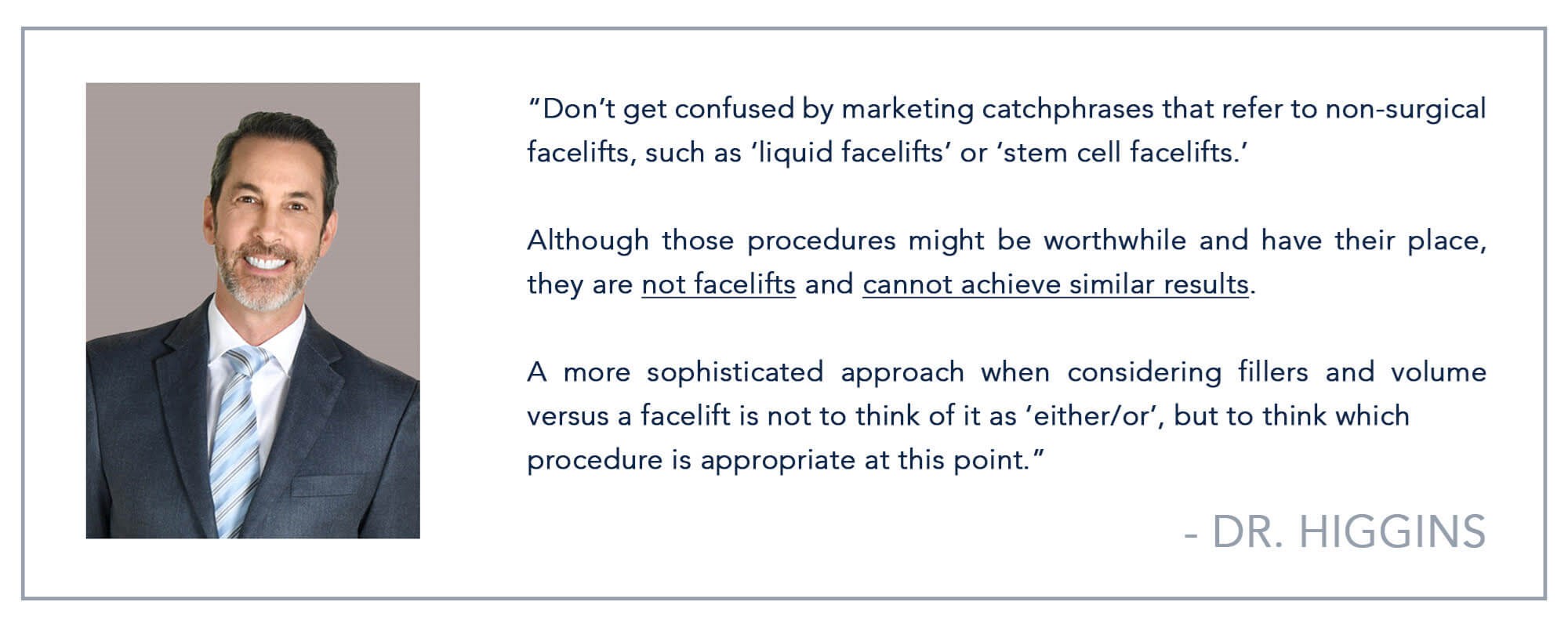 Which facelift technique is best for me?
The best surgical facelift technique for you will depend on your concerns, goals, level of skin laxity, what areas are being addressed, and more. To produce the results you want, we will explain the different techniques during your consultation. We will then help you choose which technique is best for you.
Should I receive a surgical or nonsurgical facelift?
While there are many great nonsurgical skin tightening procedures, these can only produce small improvements. For moderate to severe skin sagging, facelift surgery is the best choice to improve your appearance. During your consultation, we will discuss your options, including nonsurgical procedures, to help you select which is best for your needs and goals.
What about wrinkle fillers and relaxers over facelift surgery?
Wrinkle fillers and relaxers, like JUVÉDERM® and neuromodulators, have become very popular to refresh the face. Also known as a liquid facelift, nonsurgical wrinkle treatments are good for early signs of aging; however, the results are temporary. A facelift will produce more dramatic improvements than injectables, with results that can last for a long time. Ask our team about injectable treatments during your consultation to learn more about how they can help you achieve your cosmetic goals.
Will my facelift results look natural?
Many patients worry that facelift surgery will make their skin look shiny, overly tight, or like they live in a wind tunnel. Our surgical team focuses on giving you results that look natural — so you appear refreshed, not fake. We listen to your needs and goals before creating your custom treatment plan to produce your best results.
Is a Facelift Right for You?
If you are experiencing any of the following facial issues, you may be a suitable candidate for either a full or mini facelift:
Jowls
Profound smile lines
Lack of well-defined jawline
Wrinkles, creases, and lines
Sagging skin on the face
A drooping appearance that you desire to restore
It's important to be in good overall health to qualify for this anti-aging procedure.
The Right Facelift for You
Facelift surgery can turn back the hands of time for your face and provide you with a fresh look. Thankfully, there is a wide variety of choices for surgery, depending on your unique goals. This treatment is meant to help you look younger but natural. To learn more, we welcome you to contact Plastic Surgery Vegas in Las Vegas, NV, to schedule your private consultation with our skilled team.
Related Posts