Plastic Surgery Vegas offers a full variety of facial cosmetic surgeries to local men and women, including facelifts. This surgery focuses on precise sections of the face to tighten loose skin and wrinkles to create a more taut, yet softer appearance. Based upon your aesthetic goals, a facelift can focus on the lines and wrinkles near the eyes, the mid-face area and cheeks, the bottom portion, including the mouth, jowls, neck, and more for an all-around younger look. The facelift technique used depends on your goals, the health and condition of your skin, the degree of skin laxity, age, lifestyle, and other influences. Some men and women want a full facelift while others may only want a mid-facelift. Our surgical team is highly trained and experienced in understanding the complexity and delicate anatomy of facelift surgery. The objective is to create a natural look that's gorgeous, subtle, and still striking. To learn more, call our office in Las Vegas, NV to schedule a consult.
Facelift Reviews
"Dr. Anson did a face-lift and mid-lift on me a few years ago. She did a fabulous job!   She recently injected Voluma, a new filler that lasts 2 years into some areas in my face. I'm thrilled! Dr. Anson takes the time to really look at your face and discusses the best options for you. I can tell that she loves what she does. Everyone is so nice and professional in her office. It seems as though everyone in Las Vegas knows and loves Dr. Anson. I highly recommend her to everyone."
- S.W. /
Yelp /
Dec 13, 2014
"I had such a wonderful experience with Dr. Andrew Silver and I would highly recommend him for plastic surgery! He was very knowledgeable and answered all my questions and I didn't feel rushed at all, he took his time with me and helped me understand what he could do to help improve my appearance. He was very honest with me and told me I wasn't ready for a facelift just yet but he suggested doing some fillers and botox for now. He did an amazing job with both the fillers and the botox and I look forward to seeing him again when I'm ready for my facelift! Definitely the doctor to see for plastic surgery in Las Vegas!"
- M.M. /
Google /
Jul 15, 2018
"Where do I begin? First, with a big Thank You! After consulting with several plastic surgeons to do a facelift, neck lift, and upper eyelids, I found Dr. Silver. Having work done on your face takes a big leap of faith in a surgeon and Dr. Silver addressed all my concerns, thoroughly explaining the procedures he would recommend, while pointing out any unrealistic expectations. He was so amiable and committed to helping me achieve my goal, I left his office filled with complete confidence in his abilities. I am three weeks into my recovery and I'm already amazed at the difference. And I cannot forget to mention his nurse, Stacy, who is an absolute gem. Follow their instructions prior to surgery (taking ALL the medications that are recommended) and you won't be disappointed. I will be going back for a brow lift the end of the year and I wouldn't consider going anywhere else. I cannot recommend Dr. Silver strongly enough!"
- D.W. /
Google /
Aug 15, 2018
"Dr. Anson is a facial plastic surgeon who is World Class. I've been going to her for about 15 years or more. I call her the master of understatement. She will never push a procedure on you that is you don't need. You will never look like you've had something "Done". You will just look "Better." She's down-to-earth and has a great heart. I truly love her. She's the treasure of Las Vegas. I would never let anyone else touch my face and I was born in Beverly Hills."
- J.C. /
Healthgrades /
Aug 05, 2017
"I had a wonderful experience with Dr. Andrew Silver and would highly recommend him for plastic surgery! He was very knowledgeable with all my questions and I didn't feel rushed at all, he took his time with me and helped me understand what he could do to help improve my appearance. He was very honest with me and told me I wasn't ready for a facelift just yet so he suggested doing some fillers and botox and now I look great until I'm ready for surgery! Definitely the doctor to see in Las Vegas!"
- M. /
Healthgrades /
Aug 17, 2017
Previous
Next
Who is a good candidate for a facelift?
Facelift surgery is a highly personalized procedure. This is an investment into yourself and should not be done to fit the standards or ideals of another's.
Is a facelift right for you?
Men and women who are suitable for a facelift are bothered by drooping skin, lines, and wrinkles on the face, whether it be the face as a whole or on the upper, mid, or lower face. Facelift surgery can address various sections, depending on your unique needs. It's also important to note that age doesn't always define the time in life to have cosmetic facial surgery. There are so many unique concerns and reasons, and also numerous lift methods, depending on what needs to be addressed. The facelift chosen will vary for patients who are between 30 and 40 years old versus those who are over 60. Skin elasticity is one of the most important components in the decision-making process. Patients should be in good physical health and be a nonsmoker, and also have expectations that are realistic.
Surgical Facelift Techniques
Depending on your individual needs, there are various levels of facelifts available. Some facelifts rejuvenate the upper portion of the face while others focus on the middle and lower. Furthermore, some procedures are slightly more invasive than others. It's very common for some patients to have an eyelid lift, brow lift, or wrinkle-relaxing injections and fillers to complement and enhance their outcomes. A few of the more known facelift techniques include:
Full Facelift
Common surgery for older adults, the full facelift generally incorporates an incision close to the hairline, extending down to the temples, stopping near the base of the ears. The underlying facial tissues and muscles are delicately pulled and tightened to produce a lifted look, which diminishes excessive wrinkles and sagging. The traditional facelift is used for individuals who show signs of advanced aging. During a full facelift, many techniques may be used, including upper or lower blepharoplasty to address the eyes or neck reduction for the lower region.
Mid-Facelift
Using a similar method to the mini lift, the cheek lift (known as a mid-facelift) focuses on the hollow and lax areas near the cheekbones and the upper jaw. This lift works nicely for those who desire improvement in the middle to lower region of the face, which also includes the jowls.
Lower Facelift
This particular facelift corrects the neck region and chin, and sometimes the jowls. Nonsurgical methods, such as laser skin tightening or Kybella, can also be used for chin reduction to attain a softer, tighter neck.
Mini Facelift
When undergoing a mini facelift, a small incision is placed around the ears to lift the skin, which enhances the mouth, jawline, and jowls. This technique creates subtle improvements that look beautiful and natural.
Following your procedure, you will be monitored before you are released to be taken home by a friend or family member. Prior to your procedure, our team will plan your follow-up appointments and discuss tips to help you recover faster and more comfortably. You should expect to have swelling and puffiness, slight to moderate soreness, and discomfort, which can be reduced by prescription pain medication. You should look and feel normal after about a month. You will see a more glowing look with fewer lines and sagging. Overall, your face will appear slightly lifted and rejuvenated.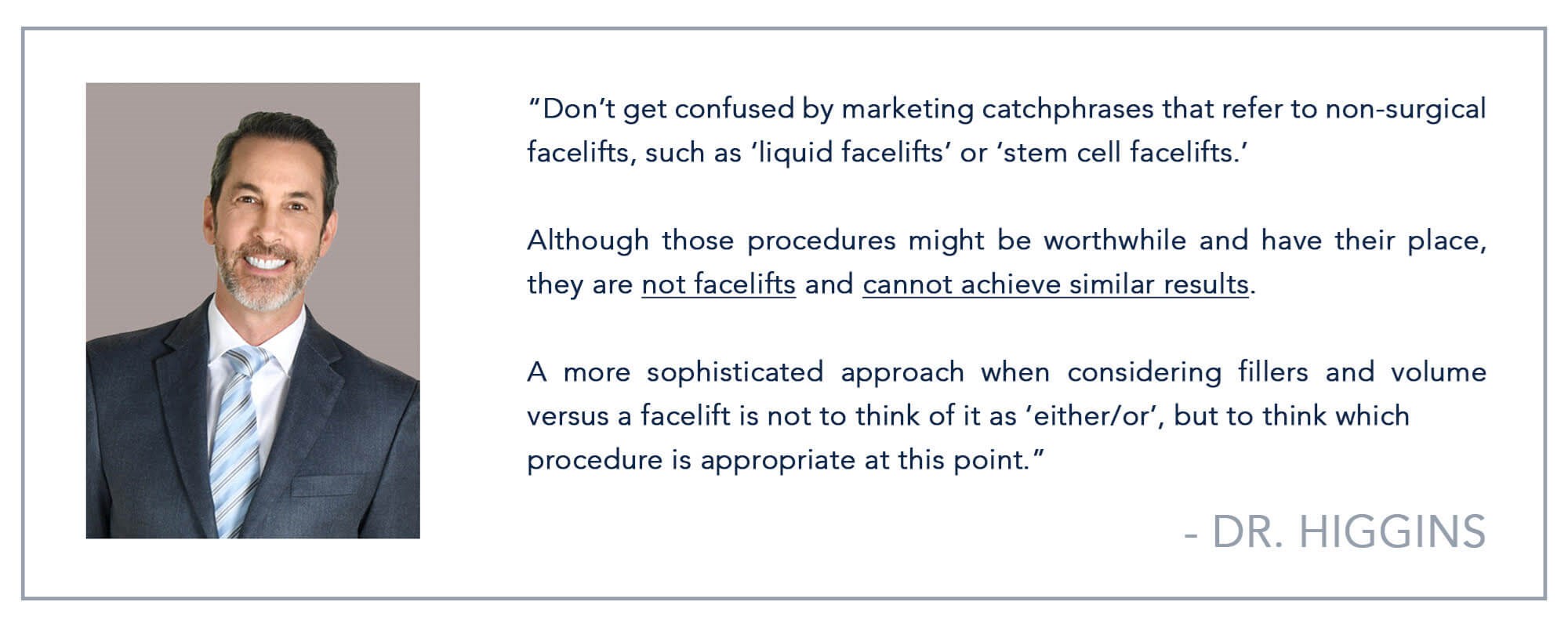 Which technique is best for me?
The best surgical facelift technique for you will depend on your concerns, goals, level of skin laxity, what areas are being addressed, and more. To produce the results you want, we will explain the different techniques during your consultation. We will then help you choose which technique is best for you.
Should I get a surgical or nonsurgical facelift?
While there are many great nonsurgical skin tightening procedures, these can only produce small improvements. For moderate to severe skin sagging, facelift surgery is the best choice to improve your appearance. During your consultation, we will discuss your options, including nonsurgical procedures, to help you select which is best for your needs and goals.
What about wrinkle fillers and relaxers over facelift surgery?
Wrinkle fillers and relaxers, like Juvéderm and neuromodulators, have become very popular to refresh the face. Also known as a liquid facelift, nonsurgical wrinkle treatments are good for early signs of aging; however, the results are temporary. A facelift will produce more dramatic improvements than injectables with results that can last for a long time. Ask our team about injectable treatments during your consultation to learn more about how they can help you achieve your cosmetic goals.
Will my results look natural?
Many patients worry that facelift surgery will make their skin look shiny, overly tight, or like they live in a wind tunnel. Our surgical team focuses on giving you results that look natural so you appear refreshed, not fake. We listen to your needs and goals before creating your custom treatment plan to produce your best results.
The Right Facelift for You
Facelift surgery can turn back the hands of time for your face and provide you a fresh look. Thankfully, there is a wide variety of choices for surgery, depending on your unique goals. This treatment is meant to help you look younger but natural. To learn more, we welcome you to contact Plastic Surgery Vegas in Las Vegas, NV to schedule your private consultation with our skilled team.
Related Post