What is Facelift Surgery?
Plastic Surgery Vegas offers a full variety of facial cosmetic surgeries to men and women, including facelifts. This surgery focuses on precise sections of the face to tighten loose skin and wrinkles to create a more youthful appearance. Based upon your aesthetic goals, a facelift can focus on the lines and wrinkles near the eyes, the mid-face area and cheeks, the bottom portion, including the jowls, neck, and more, for an all-around younger look. The facelift technique used depends on your goals, the health and condition of your skin, the degree of skin laxity, age, lifestyle, and other influences. Some men and women want a full facelift, while others may only want a specific portion. Our surgeons are highly trained and experienced in understanding the complexity and delicate art of facelift surgery. The objective is to create a natural look that's gorgeous, subtle, and refreshed. To learn more, call our office in Las Vegas, NV, to schedule a consult.
What Are The Benefits Of A Facelift?
Results are dramatic and long-lasting
Targets multiple signs of aging simultaneously
Tightens loose, sagging skin
Addresses more severe wrinkles and lines
Recontours the neckline
Reduces saggy jowls
Provides definition to the jawline and chin
Eliminates a double chin
Scars are minimal and virtually invisible
Customizable results for both men and women
Facelift Reviews
"Dr Silver performed my face lift three months ago. I look fantastic. I look like myself but younger and prettier (I never had much of a chin before). My recovery was remarkably fast (I followed instructions closely). I love the positive feedback I get from all my friends as well as my mirror. The staff couldn't have been more pleasant and accommodating. I highly recommend Dr Silver and Plastic Surgery Vegas. I have been a patient here for probably 15 years for various cosmetic treatments and I couldn't be happier."
- B.D. /
Google /
Aug 21, 2021
"Dr. Silver is an amazing plastic surgeon, because he listens to exactly what you want--what you want the end result to be, and he uses all of his skills to make it happen. He did my eyelids, a lower facelift and my neck. Not only did i recover quickly, but my friends and family all remarked that "they weren't sure what I was doing" but that I looked rested, refreshed, a little younger, a little more lively. His work is impeccable, as he is the consummate professional. I will not go to anyone else!"
- L.P. /
Google /
Aug 21, 2021
"My journey with Dr. Andrew Silver began nearly a year ago after my neighbor had recommended I see him for a consultation regarding a procedure (PDO threads) that I had booked elsewhere. She had just gotten a facelift and neck lift and looked absolutely incredible only 10 days post-op. I noticed how quickly she was healing as well as her beautiful, natural results. She then showed me a photo of Dr. Silver and I called to make an appointment immediately. I was able to get in within a week or two which was nice, given his reputation as one of the top plastic surgeons in Las Vegas. I had a few other procedures I had recently taken interest in so I was looking forward to covering all of them in the consultation. When I arrived at his office I appreciated the aesthetic of the facility itself. It's warm and chic, similar to one of the five star resorts on the Las Vegas Strip. His entire staff, from the front desk, to nurses, assistants, and office managers are all extremely friendly, and welcoming. When I finally met Dr Silver, I was a little disappointed because he was wearing a mask, but he introduced himself and asked what my concerns were. I quickly realized how thorough he was, patient, and a perfectionist of his craft! All of the things you look for in a plastic surgeon. He detoured me from the PDO threads and explained in detail why. He answered all my questions, and gave his opinion; which is refreshing because he's conservative and I feel his approach "less is more"- helps give elevating results rather than changing anyone's unique natural beauty. I had botched lip filler from another office he helped dissolve. He was able to meticulously dissolve the migrated filler without dissolving all of it, so he didn't even have to add anymore! Last year the tiny bags under my eyes had started to bother me and I was feeling self conscious. Dr. Silver suggested a lower blepharoplasty with fat transposition for the results I was seeking. I could not be MORE IN LOVE with the results :) His surgery team was so caring and funny, or maybe it was me on the anesthesia, but either way it was a great experience. Preop was the following morning and my entire healing process from that procedure was seamless which I partially attribute to Stacie and her amazing pre-op, post-op instructions that she gives in person ; via email, and has written handouts. I'm also grateful for the healing pre/ post op vitamins they give you! Fast forward to today, I'm laying here on my sofa one day out from my second surgery (3rd procedure) with Dr Silver! This time I was correcting some excess fat sub-mental (double chin). I wanted to do it under general anesthesia as I was too chicken to do it awake, so I decided to try something I liked the look of that's popular throughout the entertainment industry right now, an endoscopic brow lift. What I call a "pony tail" brow lift. I'm slightly swollen on day two, but I'm already ecstatic with the results I'm seeing!!! Same experience with surgery yesterday. Everyone was on their A game at 6am. I felt completely comfortable thanks to the whole team. I will update this review with before / after pics of myself as soon as I'm healed. I hope this reaches everyone exactly as it is meant to. I'll just end by saying I'm never letting another surgeon touch my face, EVER!"
- A.P. /
Google /
Oct 01, 2021
"Dr Silver performed my face lift three months ago. I look fantastic. I look like myself but younger and prettier (I never had much of a chin before). My recovery was remarkably fast (I followed instructions closely). I love the positive feedback I get from all my friends as well as my mirror. The staff couldn't have been more pleasant and accommodating. I highly recommend Dr Silver and Plastic Surgery Vegas. I have been a patient here for probably 15 years for various cosmetic treatments and I couldn't be happier."
- B.D. /
Google /
Aug 26, 2021
"Scars? What scars!! I am almost 52 & had a Lower Face Lift with Fat Transfer to the cheeks/face. I am almost three months post op. The results are wonderful- took ten years off easily. Dr. Silver and his staff are amazing at making you feel comfortable during the process. The results are subtle and soft - he masters the "Natural" look - & makes you look like a younger version of your true self with no distortion or "pulled too tight Fake" look. I was nervous on the Fat Transfer; however, I am very happy with the results! I believe I did choose the BEST w/ Dr. Silver and his team @Plastic Surgery Vegas."
- M.K. /
Google /
Sep 08, 2022
Previous
Next
Who is a good candidate for a facelift?
Facelift surgery is a highly personalized procedure. This is an investment into yourself and should not be done to fit the standards or ideals of someone other than you. Often, patients inquiring about a facelift wish to:
Address advanced lines and wrinkles around the mid or lower areas of the face
Address one or more sections of the face
Experience a firmer, more youthful appearance to the face
Is a facelift right for you?
Men and women who are suitable for a facelift are bothered by drooping skin, lines, and wrinkles on the face, whether it be the face as a whole or on the upper, mid, or lower face. Facelift surgery can address various sections, depending on your unique needs. It's also important to note that age doesn't always define the time in life to have cosmetic facial surgery. There are so many unique concerns and reasons, and also numerous lift methods, depending on what needs to be addressed. The facelift chosen will vary for patients who are between 30 – 40 years old versus those who are over 60. Skin elasticity is one of the most important components in the decision-making process. Patients should be in good physical health and be a nonsmoker, and also have expectations that are realistic.
Surgical Facelift Techniques
Depending on your individual needs, there are various levels of facelifts available. Some facelifts rejuvenate the upper portion of the face while others focus on the middle and lower. Furthermore, some procedures are slightly more invasive than others. It's very common for some patients to have an eyelid lift, brow lift, or wrinkle-relaxing injections and fillers to complement and enhance their outcomes. A few of the more known facelift techniques include:
Full Facelift
Common surgery for older adults, the full facelift generally incorporates an incision close to the hairline, extending down to the temples, stopping near the base of the ears. The underlying facial tissues and muscles are delicately pulled and tightened to produce a lifted look, which diminishes excessive wrinkles and sagging. The traditional facelift is used for individuals who show signs of advanced aging. During a full facelift, many techniques may be used, including upper or lower blepharoplasty to address the eyes or neck reduction for the lower region.
Mid-Facelift
Using a similar method to the mini lift, the cheek lift (known as a mid-facelift) focuses on the hollow and lax areas near the cheekbones and the upper jaw. This lift works nicely for those who desire improvement in the middle to lower region of the face, which also includes the jowls.
Lower Facelift
This particular facelift corrects the neck region and chin, and sometimes the jowls. Nonsurgical methods, such as laser skin tightening or KYBELLA®, can also be used for chin reduction to attain a softer, tighter neck./li>
Mini Facelift
When undergoing a mini facelift, a small incision is placed around the ears to lift the skin, which enhances the mouth, jawline, and jowls. This technique creates subtle improvements that look beautiful and natural.
What can I expect After a facelift?
Following your procedure, you will be monitored before you are released to be taken home by a friend or family member. Prior to your procedure, our team will plan your follow-up appointments and discuss tips to help you recover faster and more comfortably. You should expect to have swelling and puffiness, slight to moderate soreness, and discomfort, which can be reduced by prescription pain medication. You should look and feel normal after about a month. You will see a more glowing look with fewer lines and sagging. Overall, your face will appear slightly lifted and rejuvenated.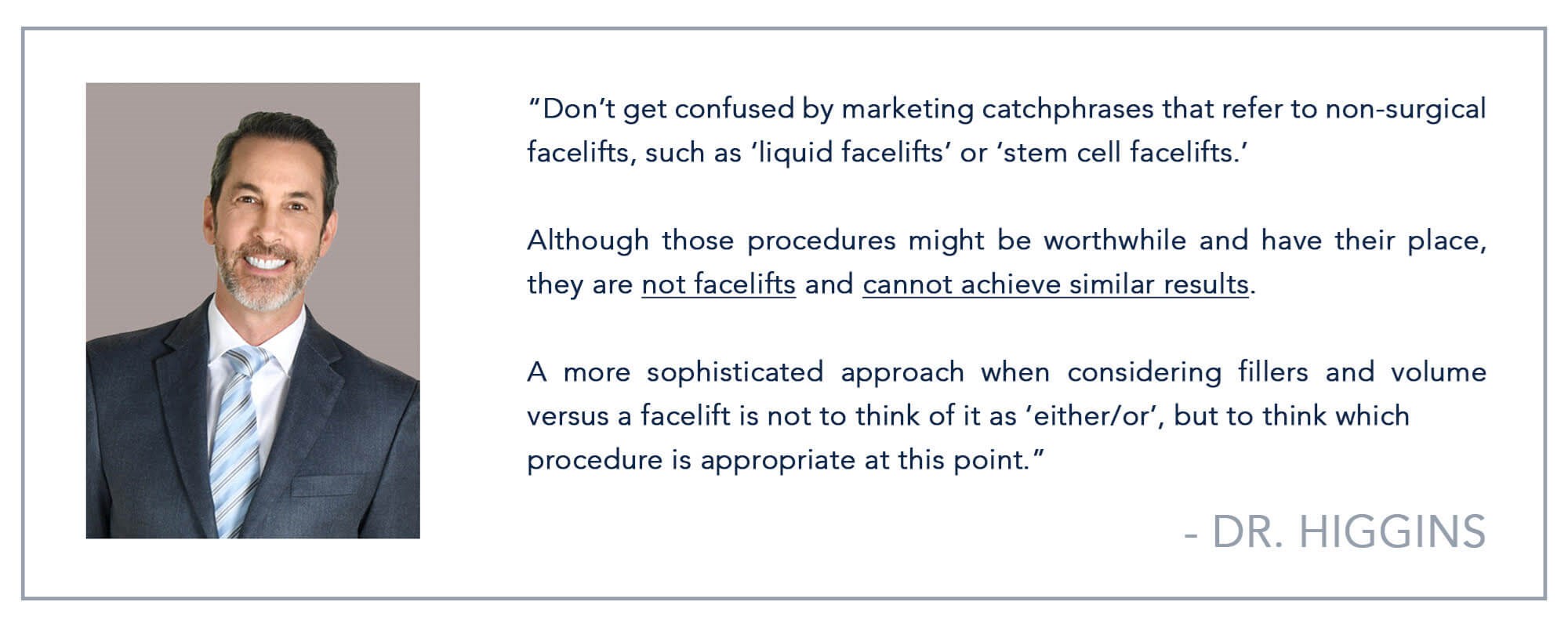 Which facelift technique is best for me?
The best surgical facelift technique for you will depend on your concerns, goals, level of skin laxity, what areas are being addressed, and more. To produce the results you want, we will explain the different techniques during your consultation. We will then help you choose which technique is best for you.
Should I receive a surgical or nonsurgical facelift?
While there are many great nonsurgical skin tightening procedures, these can only produce small improvements. For moderate to severe skin sagging, facelift surgery is the best choice to improve your appearance. During your consultation, we will discuss your options, including nonsurgical procedures, to help you select which is best for your needs and goals.
What about wrinkle fillers and relaxers over facelift surgery?
Wrinkle fillers and relaxers, like JUVÉDERM® and neuromodulators, have become very popular to refresh the face. Also known as a liquid facelift, nonsurgical wrinkle treatments are good for early signs of aging; however, the results are temporary. A facelift will produce more dramatic improvements than injectables, with results that can last for a long time. Ask our team about injectable treatments during your consultation to learn more about how they can help you achieve your cosmetic goals.
Will my facelift results look natural?
Many patients worry that facelift surgery will make their skin look shiny, overly tight, or like they live in a wind tunnel. Our surgical team focuses on giving you results that look natural — so you appear refreshed, not fake. We listen to your needs and goals before creating your custom treatment plan to produce your best results.
The Right Facelift for You
Facelift surgery can turn back the hands of time for your face and provide you with a fresh look. Thankfully, there is a wide variety of choices for surgery, depending on your unique goals. This treatment is meant to help you look younger but natural. To learn more, we welcome you to contact Plastic Surgery Vegas in Las Vegas, NV, to schedule your private consultation with our skilled team.
Related Posts