8 Things To Know Before Breast Implant Surgery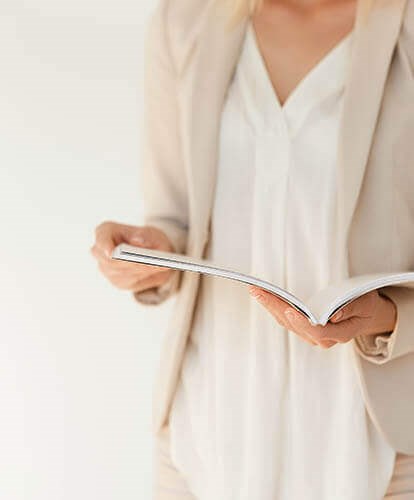 How do I choose the right implants for me?
Today's breast augmentation patients are fortunate in that they have seemingly endless combinations of options from which to choose. Although the ultimate decision is up to you, Dr. Edwards, Dr. Higgins, or Dr. Silver will help you determine the best fit based on your body and your desired results. Here are just a few of the factors you'll need to consider, as well as some advantages of each option:
Implant material: Saline implants are filled with a sterile saltwater solution which is just like the saltwater in your tissues and blood vessels. Because they are inserted into the body empty and only filled once they're in place, they require slightly smaller incisions. Silicone implants are filled with a cohesive silicone gel, which most people agree feels and looks more natural than a saline implant. Silicone gel-filled implants are often appropriate for women with less natural breast tissue, because they pose less risk of a complication called rippling, which occurs when the edges of the implant can be seen or felt.
Implant size: The size of implants chosen for you is mostly a matter of personal preference, as well as what is appropriate based upon what your surgeon determines during your examination. You may have a bra cup size in mind that you'd like to reach, which is helpful in planning, but we actually measure implants in cubic centimeters, or cc, because cup sizes vary among bra manufacturers. You can try on different "sizers" under a sizing bra to see how you might look with different options. You may also be a candidate for 3D imaging, where different implants can be simulated for you to view.
Implant shape: Round implants can be smooth or textured, saline or silicone, and can yield a very natural result. Shaped implants are contoured to try to mimic the look of a natural breast shape. They have more volume toward the bottom in an effort to try to also provide a natural result. Dr. Edwards, Dr. Higgins, or Dr. Silver will review these options with you to help you decide which implant is most appropriate for you.
Which incision is best?
Depending on your personal preferences and choice of implants, you may choose from 2 incision options, both which create discreet scars:
The most popular incision is the inframammaryincision. If you choose this incision, Dr. Edwards, Dr. Higgins, or Dr. Silver will trace the position of the fold beneath your breast where it meets your body, called the inframammary fold. The incision will be placed on this line and allows the surgeon control during surgery and precision for predictable results that are as symmetrical as possible with your anatomy. Once healed, the resulting scar can be concealed beneath clothing, lingerie, and swimwear.
The second incision option is the periareolarincision, which runs along the lower border of the areola, or the area of dark skin surrounding the nipple. This incision may be more appropriate for women who have naturally large areolas. These incisions generally heal well, as the resulting scars blend with the natural color delineation between the areola and the breast skin.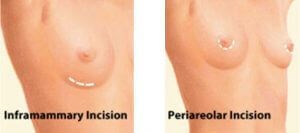 How long does the surgery take?
The exact duration of your surgery depends on a few different factors, including whether you've chosen to undergo a breast lift with your breast augmentation. Breast augmentation on its own generally takes about one hour, but every patient is told the operation will take as long as it takes to safely provide the best result we can. During your consultation, Dr. Edwards, Dr. Higgins or Dr. Silver will give you a better idea of how long you can expect your procedure to last.
Browse our gallery of before and after photos of real patients.
How long does implant 'settling' take?
"Settling" refers to the process of breast implants dropping and softening after surgery, or assuming their final, or natural, position. Immediately after breast augmentation, it is common for the breasts to sit higher on the chest and feel and appear swollen and firm. Over the weeks following surgery, your breast implants will gradually descend to a more natural-looking position with the assistance of breast implant massage, which our staff will teach you. As the tissue around them relaxes, the breasts also become softer. The process of dropping can take weeks to a few months.
How can I improve my recovery?
We do our best to make sure your recuperation period is smooth and stress-free, and there are ways you can help in that effort, as well. We review all of your pre and post-operative instructions during your clinic and at your pre-operative consult. For instance, we recommend you sleep on your back for some time after surgery in order to give your implants the opportunity to heal properly. This can be tricky if you are used to sleeping on your side or stomach, but doing so for a relatively short time will help in your recovery. Our surgeons suggest sleeping with pillows at your sides to keep you from rolling over in the night. That's just one of many tips we provide after your surgery. The most significant thing you can do to speed your recovery is to follow all of our instructions, regarding everything from medications to activity restrictions to follow-up appointments. We will give you detailed guidelines and are glad to take questions at any time. Patients who follow these instructions tend to find the process goes by quickly and easily.
Which is better: augmentation with implants or fat transfer?
The option that's best for you generally has a lot to do with the type of results you want. Fat transfer is an exciting option for many women because it creates results that look and feel quite natural. However, it's not a good match for patients in search of a significant increase in volume, as fat transfer can't add more than a cup size or so. If you're unsure of the procedure that would work best for you, Dr. Edwards, Dr. Higgins, or Dr. Silver can help you decide.
If I need to replace my implants in the future, can the same incisions be used?
Even though the majority of breast augmentation patients are satisfied with the results of the primary procedure, breast implant surgery is a possibility at some point. Some women get revision surgery to change the size or type of implants. Our experienced plastic surgeons specialize in implant revision procedures and often perform them for patients who were unhappy with results they got from other practices. They use existing incisions whenever possible. It is very common if a patient had implants originally inserted through inframammary incisions that the same incisions can be used. Incisions at the base of the areola can also usually be used again.
Can breast augmentation be combined with other procedures?
Yes, combining breast augmentation with complementary procedures is common, safe, and an excellent choice for some patients. The most common combined procedure is having a breast lift and getting breast implants during the same operation. Women who have lost a significant amount of weight or had children may get a tummy tuck and liposuction along with cosmetic breast enhancement — a procedure that is often called a "mommy makeover." The best way to determine if you're a candidate for combining breast augmentation with other procedures is to consult with either Dr. Edwards, Dr. Higgins, or Dr. Silver.